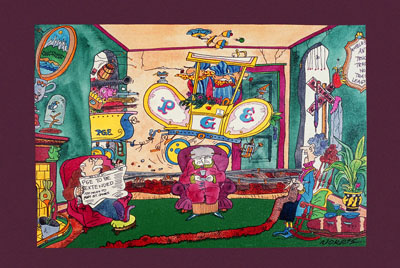 Colour Study:
15" x 20"
Sept. 10 / 98 - July 09 / 03
"...lengthening it is one thing, but Mother will
simply be furious if they widen it."
June 28, 1963
© The Vancouver Sun
After five years of picking away it's finally done. This particular household represented the diehards who resisted to the end the confiscation of homes and land by the PGE for track right-of-way along the north shore of Burrard Inlet and the eastern side of Howe Sound to Squamish. Norris, in his inimitable fashion, showed compromise taken to a laughable extreme and used it regularly when commenting on things PGE.