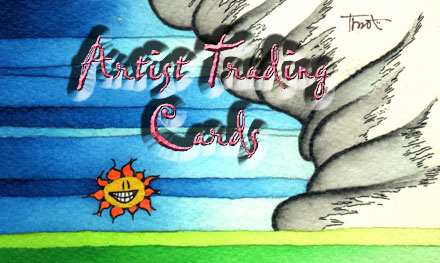 "I see the morning,
Smiling Cheshire Sunrise comes,
Mischief in the air."
Haiku paintings 2002
I found out about ATCs while surfing the Web. I was viewing a gallery site somewhere in Newfoundland and they were talking about starting up an artist trading card session but they weren't quite ready yet. They did, however, have a link to a gallery that was offering ATC sessions. I clicked and lo-and-behold - it was a gallery in Calgary - the city I live in! Artist Trading Cards are artworks two and a half inches by three and a half inches in size. A perfect size for someone like me who does a substantial amount of work at 5 x 5 and 4 by 6 inches. So I've started making paintings to trade with other practitioners of the genre and have attended several sessions now. The gallery is an artist run place called The New Gallery and they hold trading sessions the last Saturday of every month from 5 to 7 pm. It's a lot of fun and as I tend to be a mushroom artist - one who creates in a basement studio and never goes out - it does put me in touch with a few more people in the arts community. That's probably a good thing. I've joined the gallery and have volunteered my time whenever they need it. I did a bartending gig at an opening and for those of you who know me, I didn't drink the bar dry. No, really - you'd be proud of me. I'm sure that will change though as time goes by. :)
My ATCs fall into two categories. One is an original painting. The second is a scan of the painting, playing with it in Photoshop and then printing the card and backing it with stiff paper. Printing plates come covered with a white board wrapping and it has many uses for me, one being said backing paper. I love recycling paper especially when it's free! The following are originals I made for the trading sessions. Generic titles though, I'm not that thorough at record keeping.